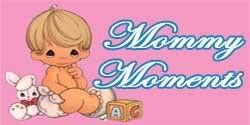 Friday means Mommy Moments day. Technically, it's already a Saturday in my side of the world but it's still Friday in the other side so let's just pretend that we are sharing the same timezone. This week's theme for Mommy Moments is all about
shoes
.
With Una growing fast, I realized early on that spending money on baby shoes is a total waste. So whenever it's time for Una to have her shoes change, we made sure that we buy her stuff on a discounted price We decided that it's best to have her wear a generic kind of shoes that will match most of her clothes. Even if sometimes I obsess over the shoes of celebrity babies like Shiloh and Suri, I know that it's just not practical. On her first 6 months, she wore white crib shoes then when she started walking she wore a pair of black Nike shoes that we bought on sale. Said shoes is still in it's perfect condition but there is no longer enough for Una's growing feet and soon to be passed on to her cousin Flee. On Christmas last year, my sister-in-law from Singapore gifted Una a pair of pink Crocs and it's been her favorite pair since then, not to mention that her favorite character Dora also appears on that shoe.
Because I missed the previous posting of Mommy Moments last week's topic
moving up
, I'll just share with you Una's introduction with crayons.
These crayons are recommended for 2 years and above but I'd like to develop Una's skills as early as possible, I made sure that these crayons are non-toxic. They are by Crayola and is really, really cheap, less than Php 50. Una's writing pad were the empty pages of my current Starbucks Planner. And methinks Una is a leftie. We would give the crayons to her right hand and then she will move it to her left hand, DK and I are both right-handed.
Any advice on how to teach her how to write in the future?
Friday is also time for Friday Follow. If you want to meet new people, follow them via Friday Follow. Just click on the banner to direct you to
Tami
's blog. Feel free to leave your link and follow blogs that caught your interest. You'll be surprised to find other bloggers out there that share the same interest as you are.